Looking for Christmas gifts for the toddler boy in your life? This gift guide is perfect for 2 -4-year-old boys! All toddler-tested and approved!
Updated for 2022!

Gifts for the All-Boy Little Boys
Oh my word, little boys have to be some of the craziest, most energetic and lovable beings in of all God's creation. My twin boys are 3 and a half now, and they alternate between melting my heart, cracking me up, and driving me stark-raving mad. But they are my boys, and they have my heart. Always will.
I don't mean to stereotype by making a 'boy' little boy gift guide. There are exceptions to every rule, and I'm sure some little girls out there love all this 'boy' stuff. All I can say is that, from my own experience with my little guys, they are 'all boy.' They don't require a lot of variation in what they love to play with. If it has wheels and they can push it, whether it's big or small, it's usually a win. If it an accessory to something that has wheels and they can push (a slide, a ramp, a racetrack), it's usually a win. If they can bang, smash, hammer or throw it, it's a win.
Boys are pretty simple, right? But we knew that about the male gender anyway, didn't we? 😉
Fan Favorite Gifts for YEARS of Play
These toys are ALL fan favorites of my boys. These are the ones that come out and stay out all day and have been on their playlist during both 2 and 3 years old. Many of them we stumbled upon by accident – in the church nursery, at a friend's house, hand-me-downs – but once I observed my boys playing with them, I knew they were keepers! These are all perfect gifts for the 'all boy' little guy!
Updated to add: My boys are 4 and a half now – and they still play with these toys! All of them! If you invest in these toys this year, you should get a few years of play out of them!
Gift Guide for Little Boys, Ages 2 -4
This post contains affiliate links. See Disclosures for more details.
*** I added links Amazon as well as Walmart, if Walmart carried the item. These two retailers go back and forth all season with the lowest price. You may just want to compare the two before purchasing, to see who is offering the best deal!
1| Wader Park Tower Playset with Cars, 7 Floors
After a long car trip from NY to NJ to see my old college friends and forcing my little guys to skip their naps, this toy was worth its weight in GOLD! My friend's son had outgrown this and she pulled this out for my boys. They played with it All. Day. Long. I'm not kidding. For HOURS! I was over the moon when she gave it to us! This comes out every day.
2| Tonka Steel Classics Toughest Mighty Dump Truck
Our neighbor had 2 Tonka Trucks like this that his own son had played with. They were moving, so they passed them on to us as well. I was worried that the steel might be too rough for 2-year-olds, but not so. It is so sturdy and durable and can take the beatings my sons give it! These are their favorite backyard toys. They just love to run and push them all over the yard and put rocks and sand and whatever else they can find in it. This version is the latest, redesigned model.

3| Hot Wheels Criss Cross Crash Set
This was another keeper from our trip to NJ. Another toy my friend's son had outgrown became hours of amusement for my boys. This does take up a little bit of space – we keep it in the basement playroom – but, they get so excited when I tell them we are going downstairs because they know it's racetrack time!
Also At Walmart
4|Kiddie Land Disney Activity Fire Truck Ride On
This is the latest model of this toy -can't go wrong with a toy little boys can hold on to the back and run it like crazy all over the house. This might be geared a little more toward 2-3 year old boys as boys closer to 4 might be ready for Big Wheels or bikes, but my sons still have fun with this at 4.
5| Step 2 Lifestyle Custom Kitchen Playset
I originally thought my boys wouldn't be into something like this, but thank you, church nursery! The boys love it! Seriously, what could be wrong with something where doors open and close and you can take things in and out (and in and out – and in and out)? They love tooling around in the kitchen in real life, and this toy kitchen gives them lots of fun playtime.
Related: Holiday Shopping Guide for Mobile Babies – 9 -22+ Months
6| MegaToyBrand Workbench Kids Tool Set
This was a hand-me-down from my sister, and the boys love this one so much. They test out their tools and 'fix' everything in sight, and, oh my goodness, the hammers. But I don't have to tell you how noisy life with boys is!
7| Deluxe Canyon Road Train and Track Play Table
We landed on this one at our local library, and I cannot tell you the DRAMA when I tried to pull my son from this when it was time to go home. You would have seriously thought I cut off his leg. He played with this the entire time we were there.
8| 12 Wooden Train Cars Plus Bonus Crane
This is another treasure we found at church as well. These magnet cars keep my boys busy for such a long time, too! They love just stringing them together and pulling them on the train table, on the floor, on the kitchen table – doesn't matter. These are perfect for any train table. And the magnetic crane is the icing on the cake in this one!
9| Disney's Pixar Cars 3 Mack Motor Hauler
My boys are not really into the movie Cars yet, but these little Disney die-cast cars are my boys' best friends. They are their go-to toys when they need a toy for the car, when we go to the park, when it's meal time, what they hold when they are getting ready to go to bed. Maybe it's their eyes and faces? But my boys ADORE these cars. And they just LOVE putting them in the hauler. It truly is a perfect gift idea.

10| Melissa and Doug Deluxe Standing Art Easel (Chalkboard and Dry Erase)
When I can pry trucks and cars out of their hands, they love to draw and color. Chalk is one of their favorites (on the walls, especially), but when I can guide them to this easel, it's fun for everyone.
11| Kids Magna Doodle Erasable Writing Sketch Board (with colors!)
I've noticed that between 2 and 2.5 years old, the boys are settling down enough to do some activities while sitting. They love this board. The colors are so fun, and I don't have to worry about crayons or markers or chalk all over the house. They love when I draw pictures on it, and they have to guess the object. This makes it super-simple and no mess. This is also great for practicing numbers and letters as they get older.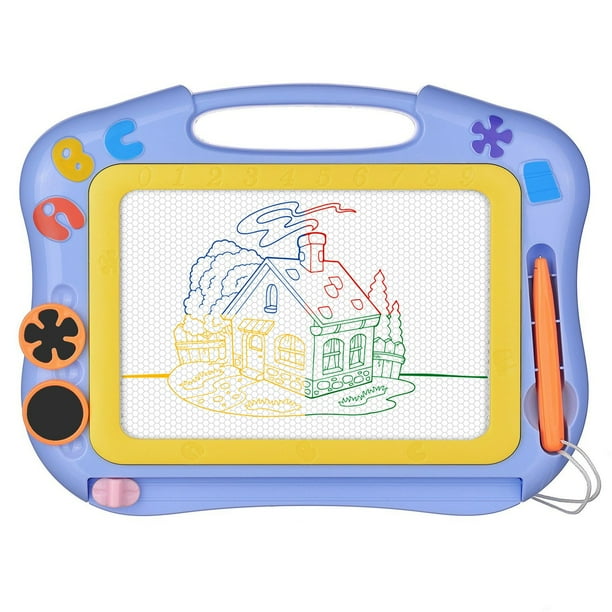 These horses are so fun. It's so funny to see when they just randomly pull these out and start bouncing. They love tipping over the side of it best. Go, figure. Boys.
Update: My boys are now 5 years old and LOVE this even more than they did when they were toddlers. Totally worth the money!
13| Mega Bloks Shapes Sorting Building Wagon
This is a great version of this toy – not only does it have the building blocks, but also a shape sorter. Definitely age-appropriate for toddlers! Of course, the boys love pulling the wagon and dumping it over, but we also have a ton of fun with the blocks. Our favorite is to build towers and tunnels – for their cars, of course.
As they get a little older, they love to build parking garages and cities. They also really like the Strictly Brik Sets that are just a little bit smaller than these but not as tiny as regular Legos, which is an option for the older little guys.
14| Toy to Enjoy Excavator and Dump Truck (Set of 2)
These trucks are made of plastic instead of steel. For us, it makes it easier to have certain toys we keep outside and certain that stay inside (for mama's sake). My son LOVES to run with this truck and push it around the house, filling it up with cars (of course) and any other random object he can find. And the excavator is great for loading up the cars and other objects to move and dump!
Seriously, you can't go wrong with Matchbox Cars and you can never have enough. These are great for the car slides, the race tracks, and playing outside with. Great stocking stuffers, too! If your boy is a little brand-specific, they also come in Hot Wheels 20 Pack as well.
I know you think 'beach' when you see this, but these are great toys all year long. Shovels and buckets and sandcastle shapes are great for sandboxes and snow, too! There are always things to be collected in buckets – rocks, leaves, sticks, cars, Cheerios – and a pail of his own for all his important finds is a boy's best friend.
17| Green Toys Plastic Toy Wagon
My son LOVES this wagon! He has so much fun loading it up and dragging it all over the house. His cars, his stuffed animals, balls, other toys, shoes, clothes – whatever he can get his hands on – all go in the wagon. And it's made from 100% recycled plastic and no BPA, phthalates or PVC. So, another win there!
Also at Walmart
18| V-Tech Race & Play Adventure Park
A friend of mine bought this for the boys' 3rd birthday, and they have been obsessed ever since. They play with this one every single day. They not only use the cars that come with it, but they also use their monster trucks, race cars, and trains. They love how the arm swings up and carries the car to the next level! This is a win! There are also similar items like Roadmaster Train Set (which I think is perfect for little boys!), Ultimate Wheels RC Speedway, and the Spinning Spiral Tower Set. All of these sets use the same Smart Wheels Cars. You can also buy extra cars here!
19| Step 2 Dino Dig Sand and Water Table
The boys saw an episode of Max and Ruby where he was digging for dinosaur bones, and they have been loving it ever since! They did everywhere they can find! I love this table because it's sand and water! Perfect for winter and summer play! And to find dinosaur bones, of course!
20| Little Tikes 3′ Trampoline
This one is MUST if you have a little guy who needs to burn some energy but getting outside isn't an option! This trampoline is the perfect way for him to jump, jump, jump his way to exhaustion and a good night's sleep!
21| Rain Boots
Rain boots are such a FUN idea for little boys! My sons LOVE going out in the mud, and if you're a mom like me, you might not LOVE it as much! Rain boots are a perfect compromise! There are so many fun patterns to choose from! And you can also choose a cute rain jacket to go with it as well!
22| Teepee Hideaway
This is such a FUN idea for little boys! My sons are almost 6 now and ADORE their teepee! It's roomy and the quality is excellent! The boys LOVE having their own 'boy cave' to play in or just relax watching read alouds on YouTube! We also have teepee lanterns, which the boys love, too! And A Mustard Seed Toys is a great small business – they donate a product to a children's hospital with every purchase!
Other Cheap Gift Options and Stocking Stuffers for Little Boys
If you need some stocking stuffer ideas or just cheap little extra – these are always winners for our guys:
Coloring books
Crayons
Markers
Watercolor books with watercolor brushes or pens (like these from Melissa and Doug)
Books
Balls (so many balls to throw and kick!)
Bubbles
Those are all still fan favorites around here and great stocking stuffers also.
I know the toddler age can come with lots of challenges, and boys are SO busy and noisy and crazy – but it's so fun to watch them grow, and honestly, it's more fun when we join in the fun with them.
What are your toddler boys' favorites?!? I'd love to see what I missed!
Have a baby you need to shop for? Check out this Holiday Shopping Guide for Mobile Babies – 9 -22+ Months
Want some inspiration for decorating? Try 30 Rustic Farmhouse Christmas Decorating Ideas
How about some Christmas DIY projects? Look at 30 Rustic Farmhouse DIY Christmas Projects
Looking for some healthy Christmas yummies? Here's 30 HEALTHY Christmas Cookie Recipes
Want to save money by making gifts instead? See these 29 DIY Mason Jar Gift Ideas