If you want a little Valentine's Day cheer, you're in the right place! Today you can find some budget-friendly options and inspiration for door decorations! Wreaths, wood rounds, door covers – we have it all, in all kinds of fun farmhouse styles!
Cheery Valentine's Day Decor Ideas
As soon as Christmas begins to fade in the rearview mirror and winter is starting to feel a little long, thankfully there is something bright on the horizon before spring – and that, my friends, is Valentine's Day cheer. My mom never decorated for Valentine's Day growing up, but decorating for each season and holiday is something I've really loved to do. Valentine's Day decorations can feel a little overbearing if you go overboard, but a few key elements here and there really brighten the space before spring.
When I decorate my porch after Christmas, I stick with a lot of winter greens and whites; when Valentine's Day comes along, I keep the whites and add Valentine's Day decorations to my front door and porch area. Even if you don't have a porch, Valentine's Day door decorations are really just enough if you don't want to go all out in your home – just a little bit is all you really need.
How to Decorate for Valentine's Day: Winter or Spring?
As I said, you can work with your winter whites and even some of your Christmas red hearts and add in some red decor. Or you can lean toward spring and add pink hearts and flowers. There really is no wrong way to do it.
First things first – you just need to decide on the feel you want. If you still want the chilly drama of winter, go with your winter whites and reds. If you are yearning for spring, go with the pinks.
I've done it both ways – you can see some easy Dollar Tree Valentine's Day crafts I made here that are both in reds, whites, and neutrals, if you're a fan of getting out your hot glue gun and craft supplies. Last year, I went full on with a rustic, romantic Valentine's Day theme that was a mostly seamless transition to spring.
My only suggestion is the stick with one or the other – winter or spring. Or at least add some space between your vignettes or place them in different rooms if you're going to mix and match. Pinks can still work with reds – just make sure you have the same strong, dramatic vibe.
Today we are going to look at some different kinds of valentine door decoration. Door decor is a simple way to add festivity, even if you don't want to commit to decorating your entire house. It's a quick view, especially from the street, to brighten the day of all who pass by. In the list below, you'll see:
Valentine's Day Door Hangers
Valentine's Day Wreaths
Valentine's Day Full Door Covers
30+ Valentine's Day Door Decor Ideas
This post contains affiliate links. See Disclosures for details.
As you scroll through sections (door hangers, wreaths, and door covers), the picture is below the description. Just click on the picture to be taken to the site to purchase! There are choices in every price point!
Valentine's Day Door Hangers
This section consists of wood rounds, wood hearts, and other types of fun door decor. Wreaths will be in the following section.
If you know me in real life, you know something like this one has my heart. ∨∨∨∨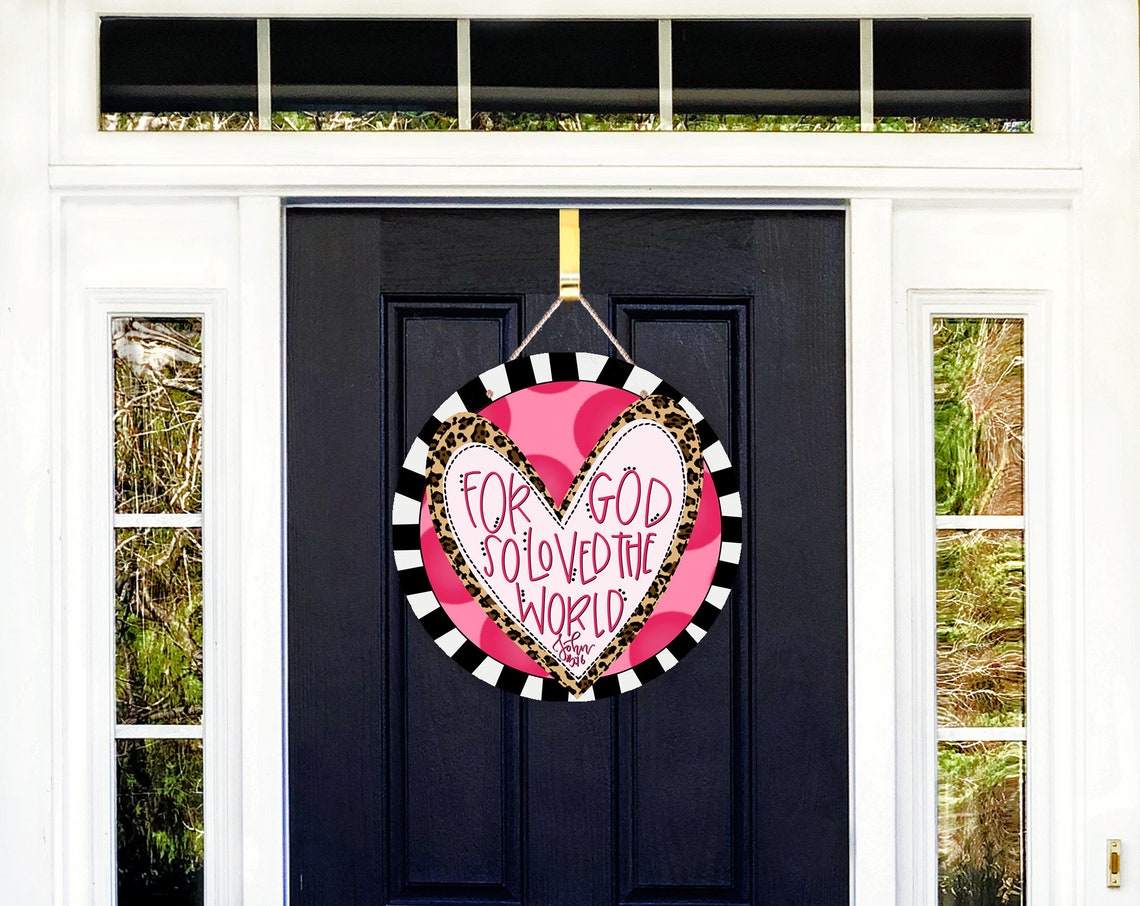 This one below is a gorgeous, modern farmhouse look. Love the clean lines and font choice! ∨∨∨∨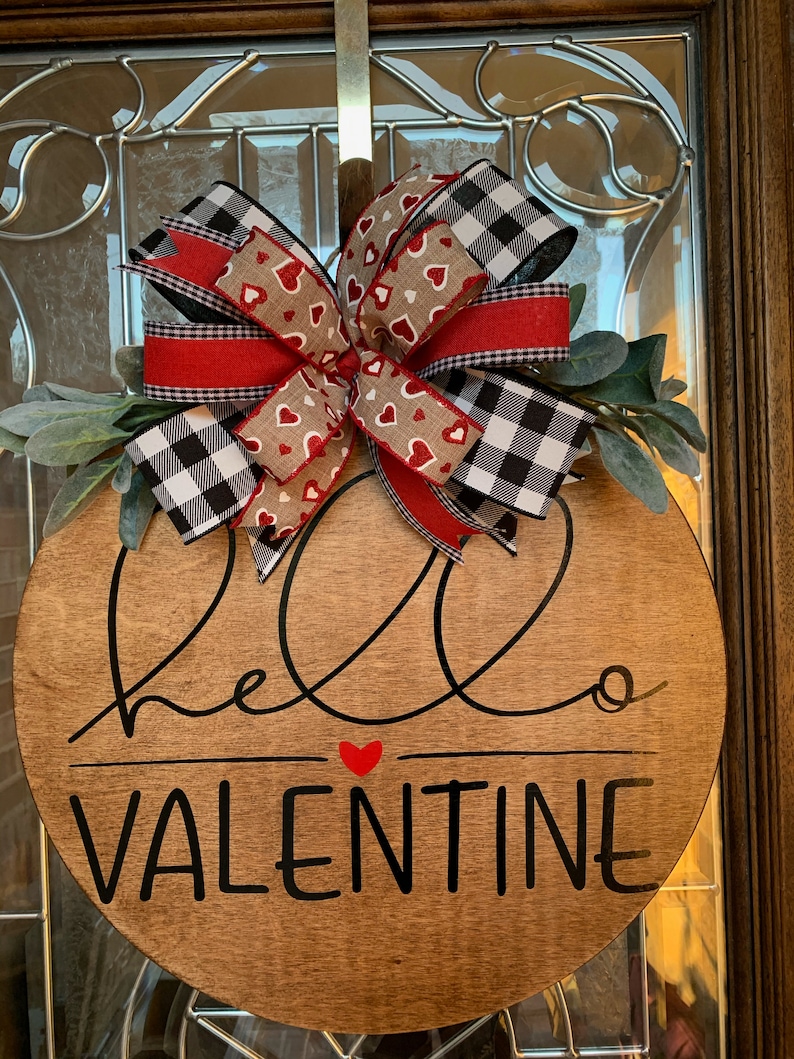 This is a great Valentine's Day choice if you still want some sort of 'welcome' sign for your front door! ∨∨∨∨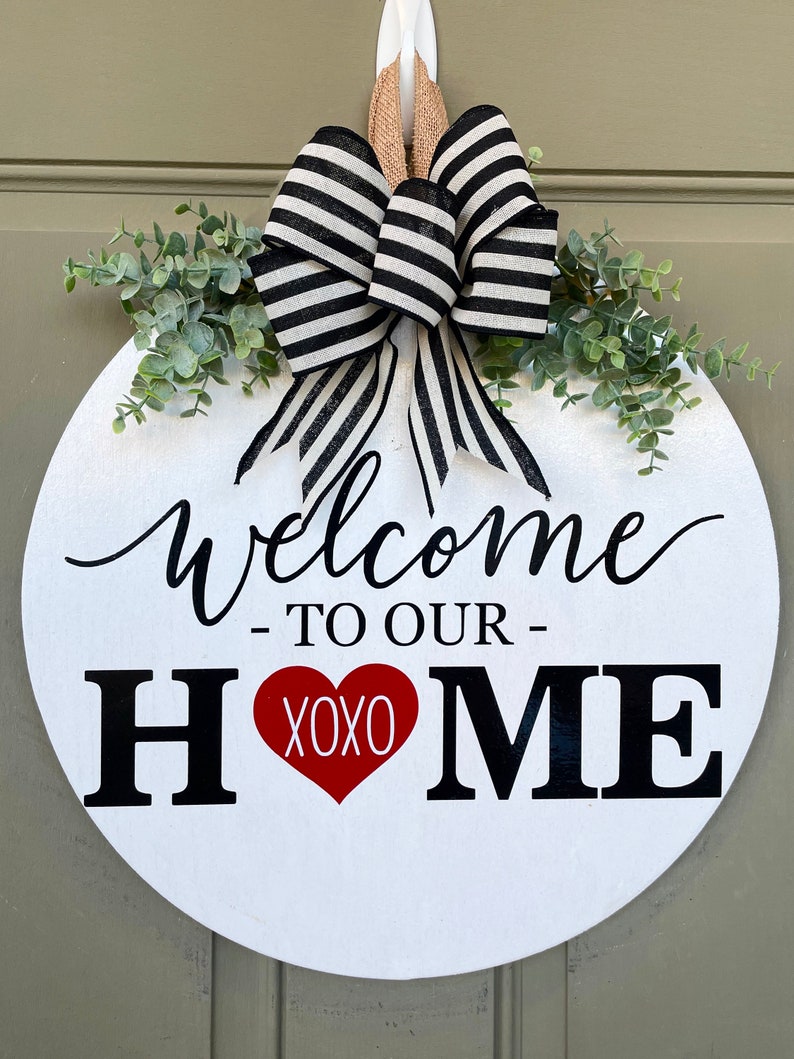 Black and white stripes are a fun, bold, modern choice for Valentine's Day decor! ∨∨∨∨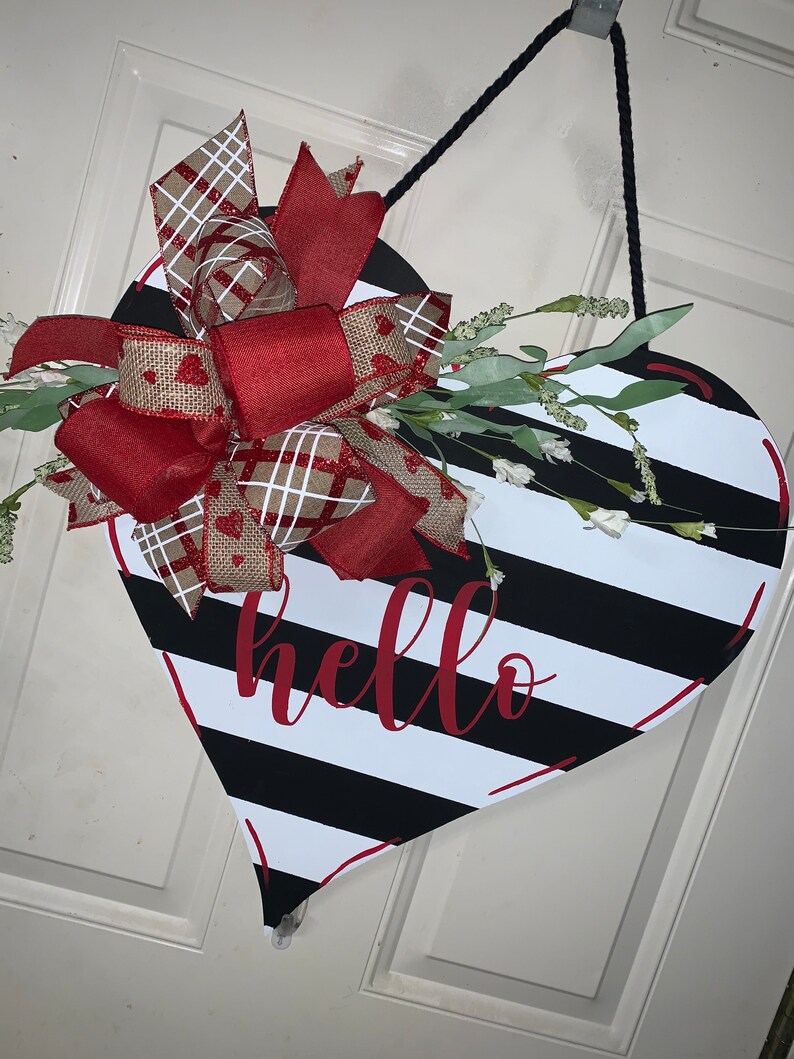 The bright red script font is just gorgeous! The 3D look is fabulous on this one! ∨∨∨∨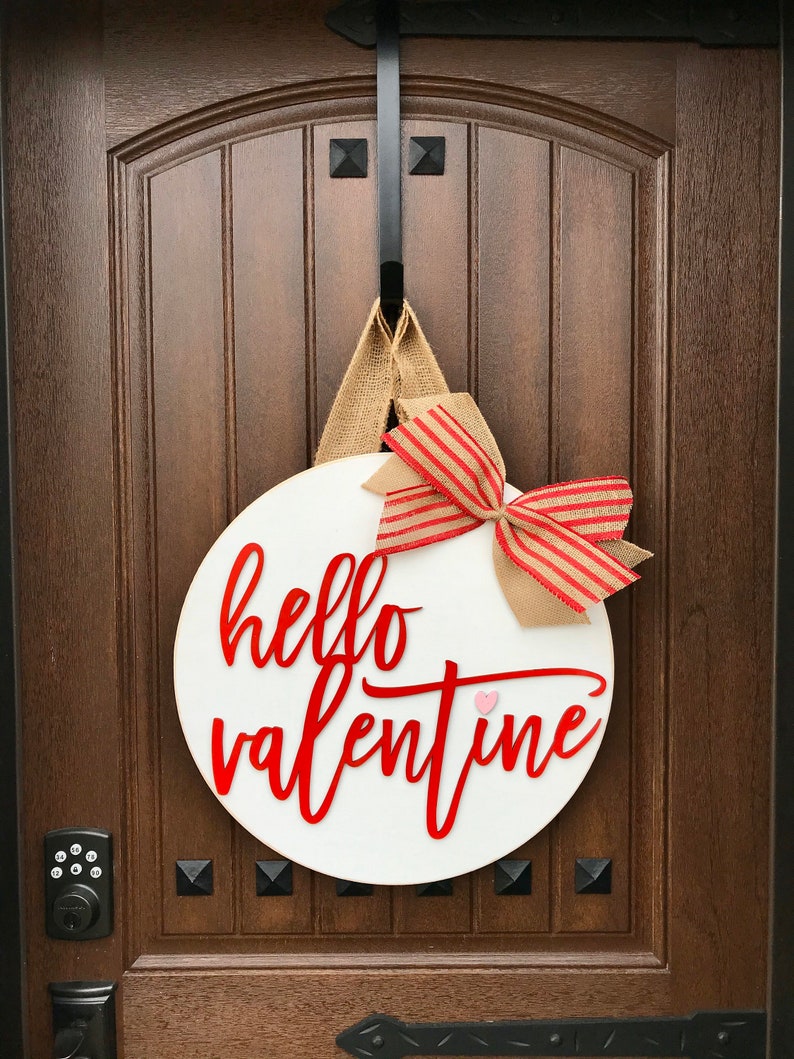 Here's a similar version of the door hanger above, in a feminine pink font. ∨∨∨∨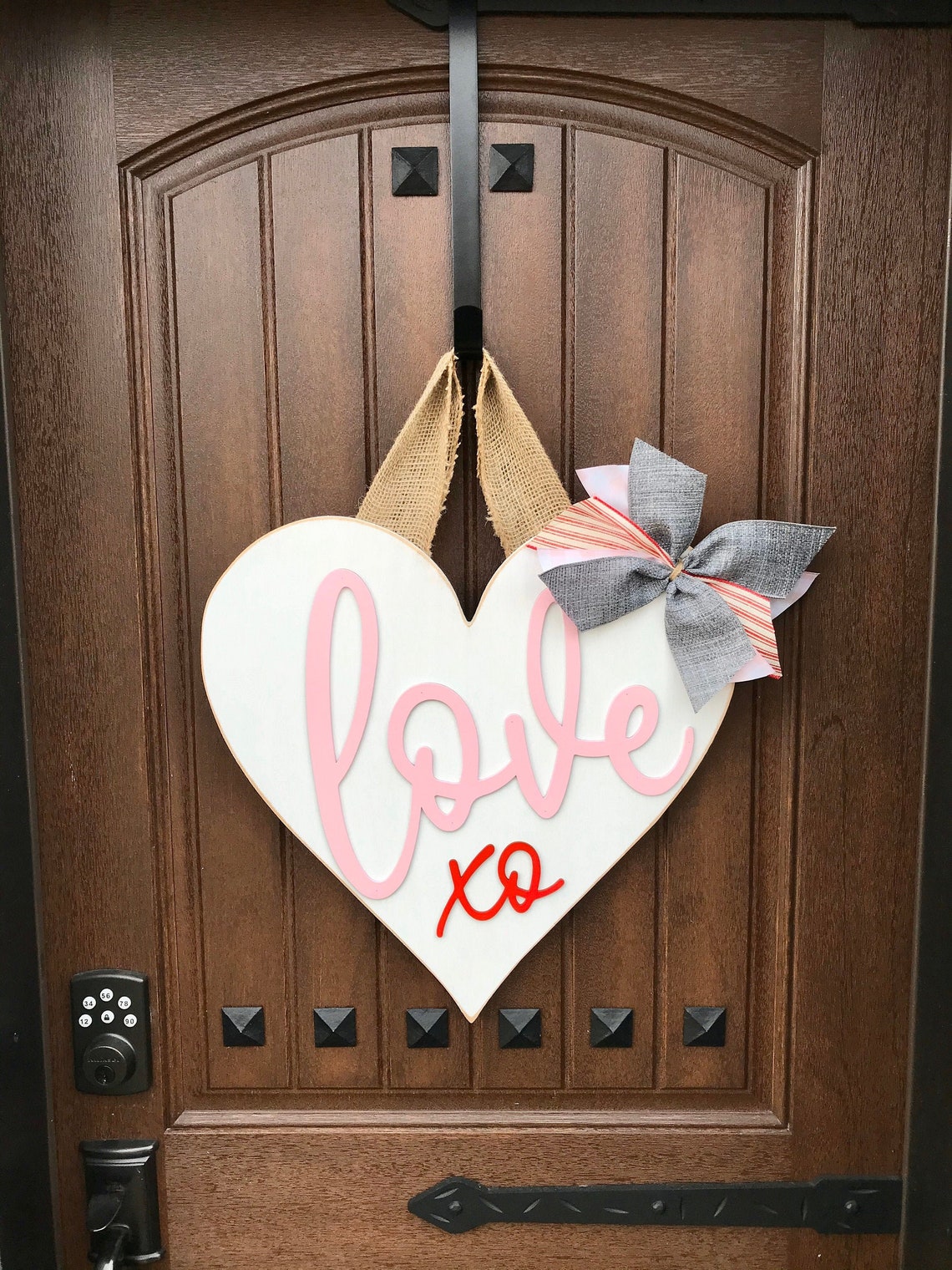 This one is a little thinner and more lightweight, a fanciful happy look for Valentine's Day. ∨∨∨∨
Another fun choice if you like red and want more of a 'welcome' sign for the door. This will definitely be seen from a street view! ∨∨∨∨
Red buffalo check is not just for Christmas, y'all! This is super-sweet for Valentine's Day! ∨∨∨∨
Burlap, stripes, polka dots… you have it all here, my friends! ∨∨∨∨
I love the natural wood look and simplicity of this door hanger! You can get this one in a different color as well and is a budget-friendly custom choice! ∨∨∨∨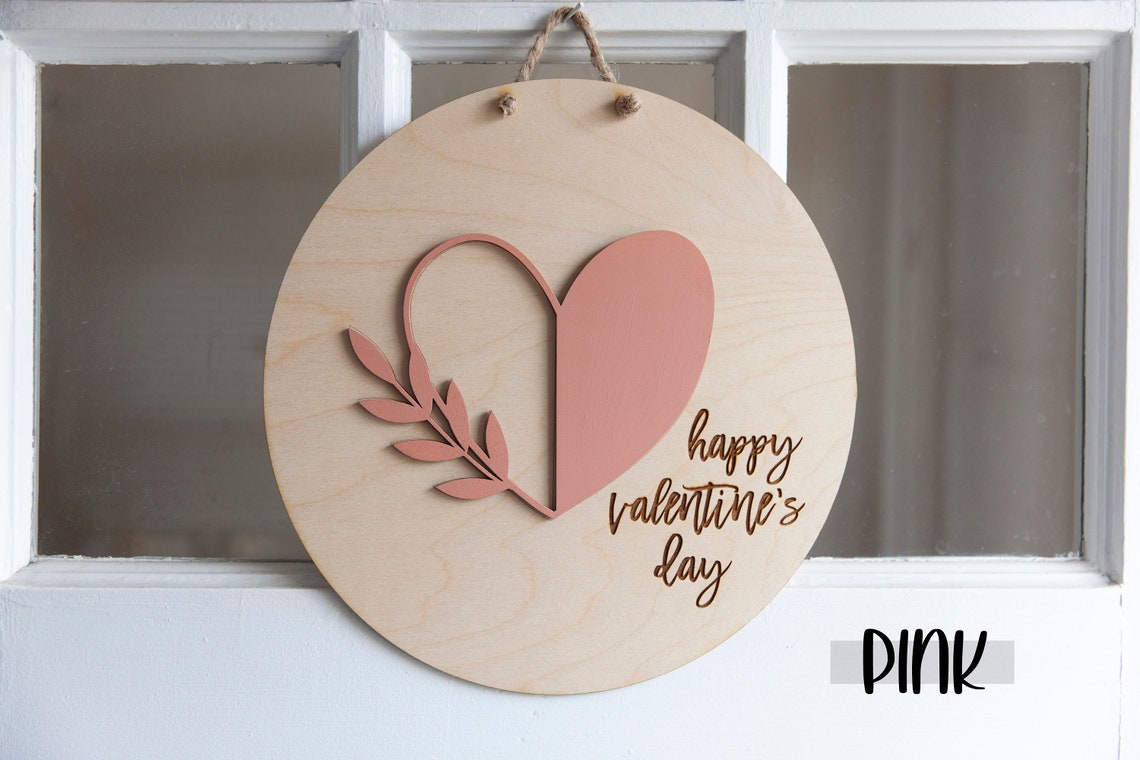 Classic red and white for Valentine's Day! This would look amazing on any door color that isn't white. ∨∨∨∨
That little red truck never gets old! If you are a fan of that sweet nostalgic image, this might be the one for you! ∨∨∨∨
Besides the pretty font, I'm especially love the eucalyptus greens on that one. Just adds a little bit of natural freshness. ∨∨∨∨
If you want something other than a heart or a wood round for your door decorations, this bunch of sweethearts is super sweet. ∨∨∨∨
Conversation hearts... is there anything more quintessentially Valentine's Day than that?!? ∨∨∨∨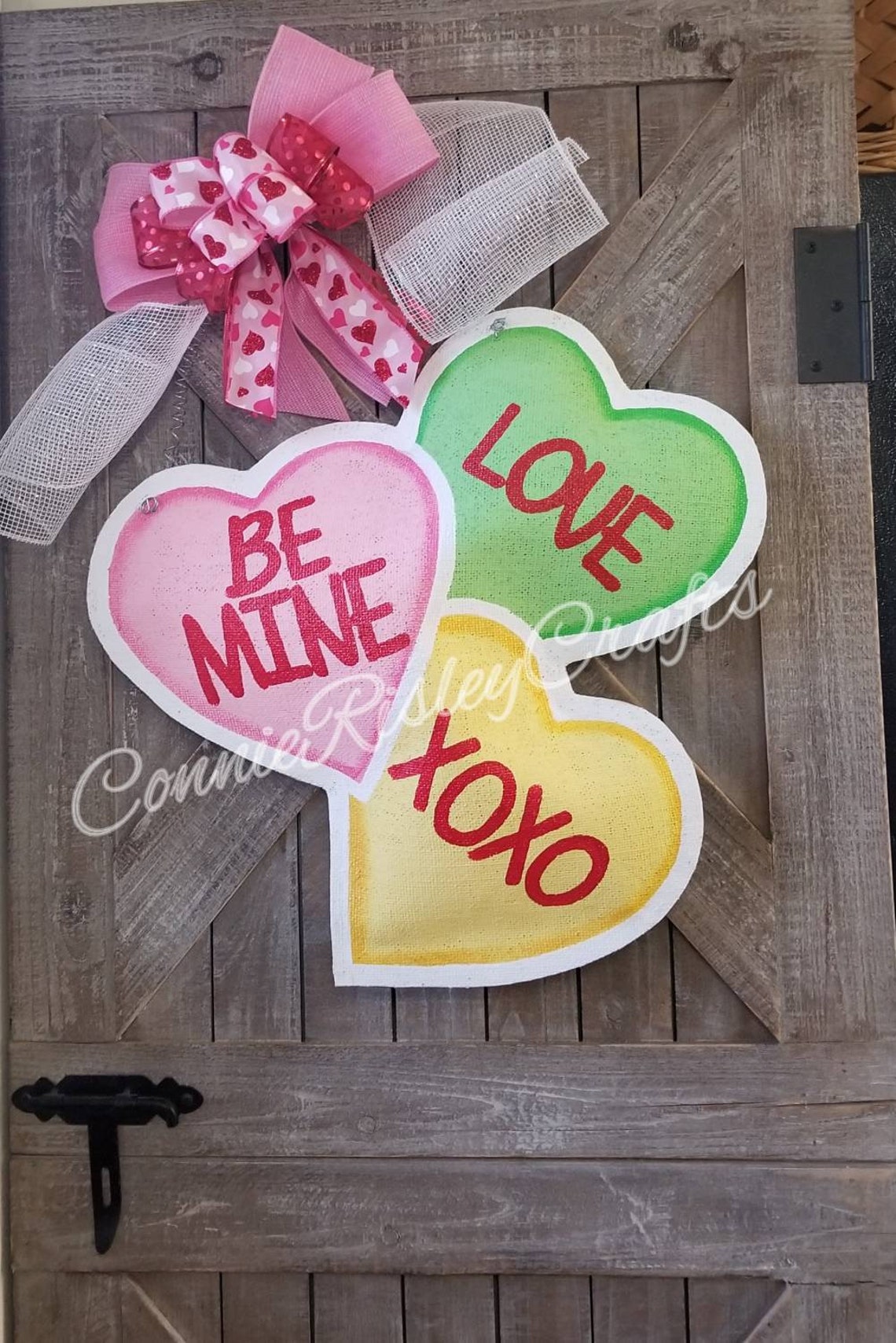 And if nothing says Valentine's Day more than a latte, this might be for you! ∨∨∨∨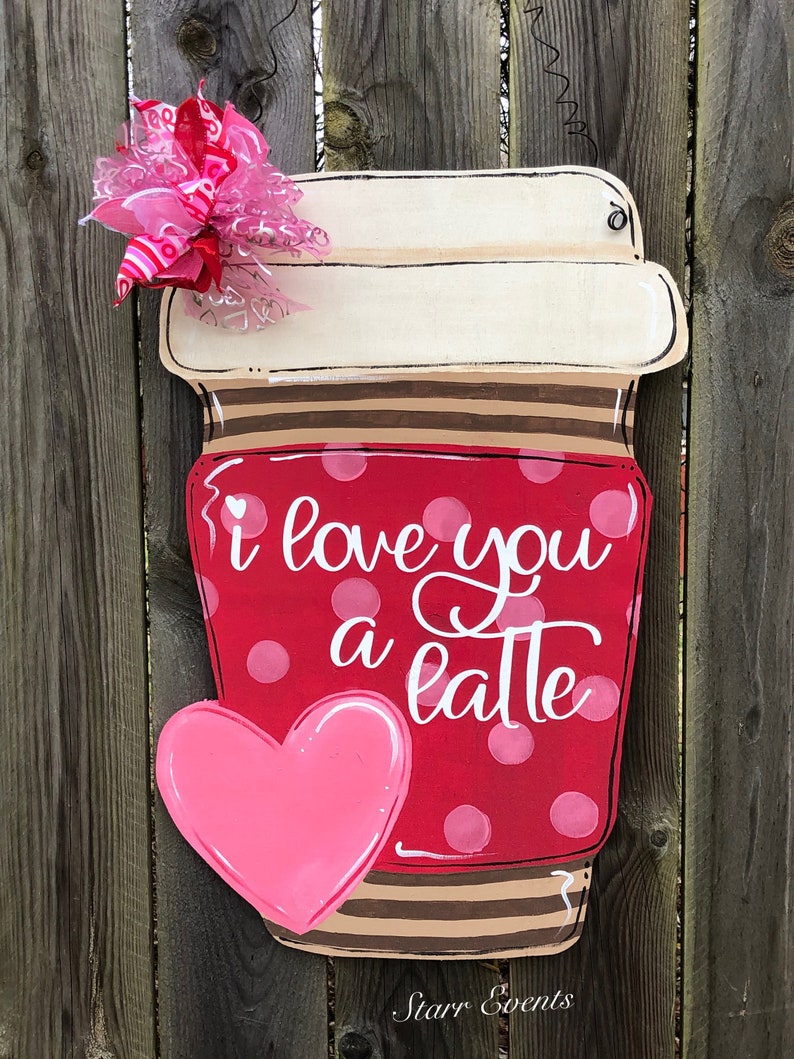 Valentine's Day Wreaths
There are some really beautiful choices here, for all kinds of budget! Some are romantic, full of floral femininity, some are fun, and some are the classic hearts.
I didn't include any DIY Valentine's Day wreaths – that one is its own post if you want to DIY. Many beautiful options there as well!
I just love the Victorian vintage look here. So romantic and nostalgic. ∨∨∨∨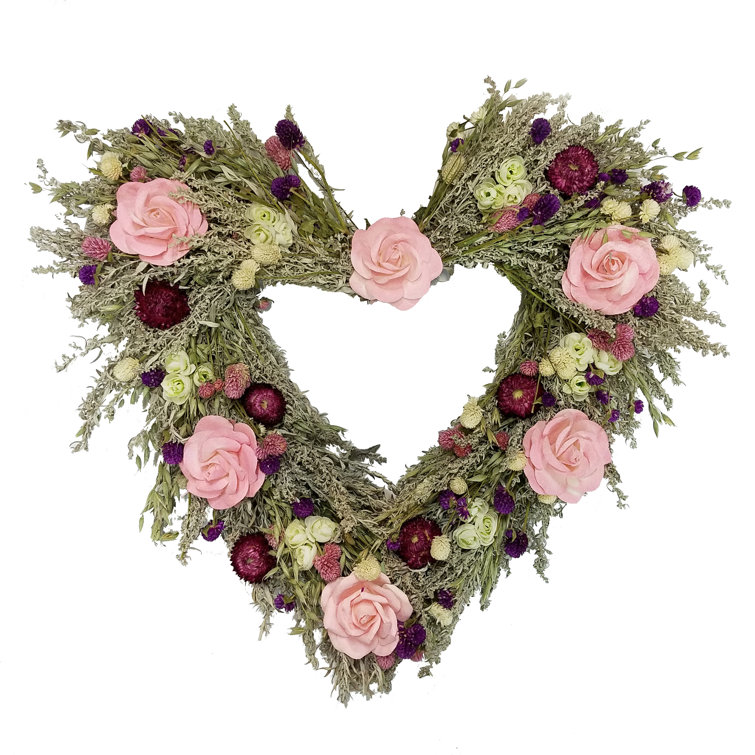 Red heart wreath… that's all you need to say! ∨∨∨∨
I'm a fan of mixing in spring floral for Valentine's Day. It's romantic and an easy transition to spring decor, especially if you use pink! Look at those peonies! ∨∨∨∨
I love this choice if you are wanting florals but love the neutral look. It's a mix of modern farmhouse and vintage. ∨∨∨∨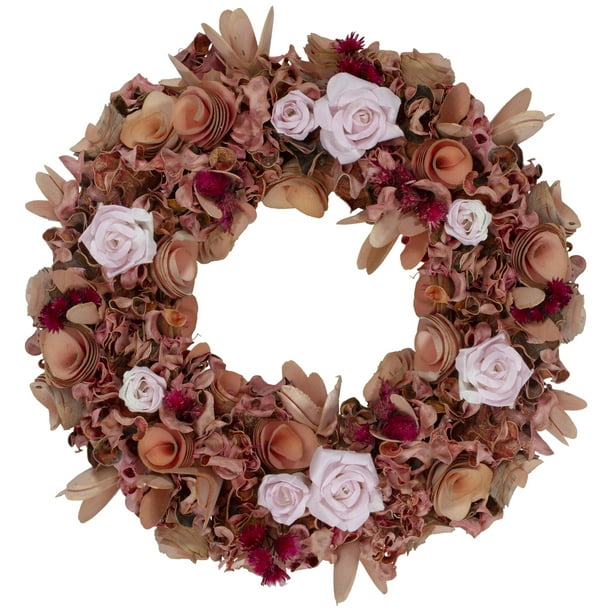 And if you want the bright red boldness of a floral wreath, this is a fantastic choice as well! ∨∨∨∨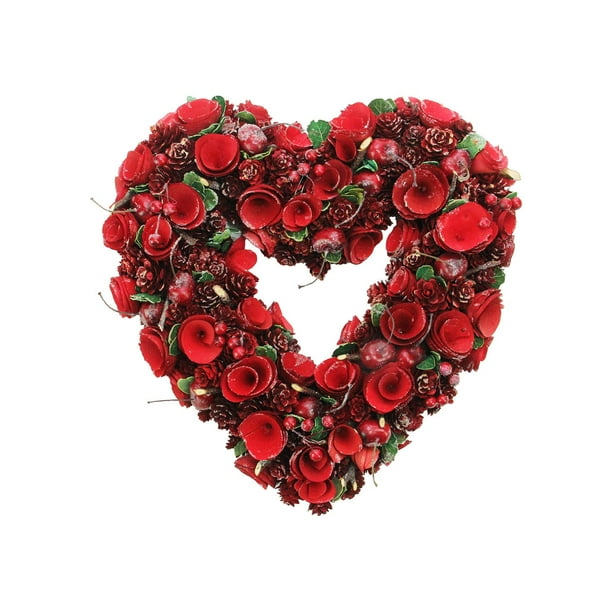 This is a wonderful budget-friendly choice! Love the whimsy of those fluffy pom-poms! Such a fun idea. ∨∨∨∨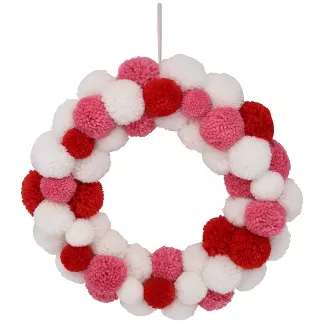 How about a cupid's arrow for Valentine's Day? Romantic and fun. ∨∨∨∨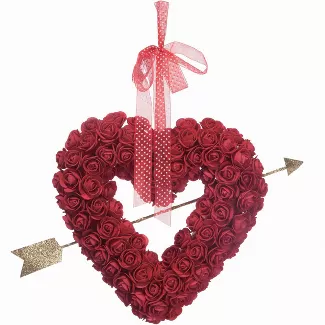 Love, love, love the rustic look of a grapevine wreath. Heart-shaped with berries is perfect for Valentine's Day. ∨∨∨∨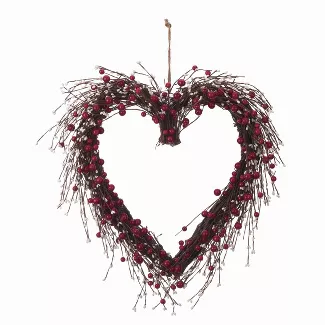 Soft pink and white yarn – subtle and sweet! ∨∨∨∨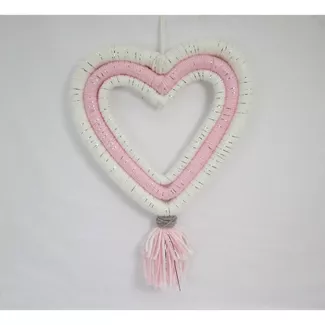 A felt heart wreath is another fun choice that's easy on the wallet as well as the eyes – a lightweight option and certainly more substantial than a wreath with paper hearts! ∨∨∨∨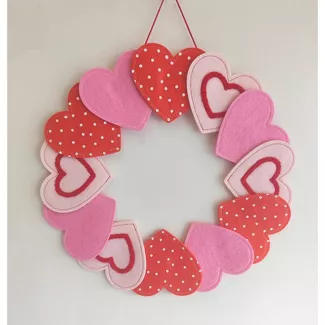 Valentine's Day Full Door Covers
These door covers work perfectly if you want a statement for curb appeal – or even Valentine's Day classroom door ideas for the teachers in the group! These also work well if you need to decorate a bulletin board or happen to be a room mom.
This section also includes door cover sets that can hang on either side.
All the hearts happening here! ∨∨∨∨
Cute and fun and all the Valentine's Day wishes! ∨∨∨∨
The black background of this one is definitely an attention-getter! If you like farmhouse-inspired decor, that milk can checks off the box! ∨∨∨∨
This is a fun choice is you have space on the side of your door! It can also be hung down the middle. ∨∨∨∨
This banner set has a classy feel to it, perfect for a door with space to fill on both sides. ∨∨∨∨
If you like red buffalo check, this is another option for door decor for Valentine's Day! ∨∨∨∨
This set gives you lots of options with festive messages and a cute mix of red and pink. ∨∨∨∨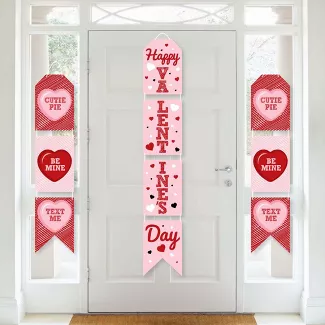 Valentine's Day Decorations for the Front Door for the Win
Great choices, right? There's an option for every price point, so I hope you found something you love! And if you didn't see anything that captured your heart and you'd like to try a Valentine's Day DIY wreath or door hanging, take a look over here for 30 ideas! I also made these two wreaths below from mostly Dollar Tree materials – a DIY rope heart wreath in neutral style and a minimalist heart hoop wreath!
I'd love to see it in the wild – tag me on Instagram @100affections or leave a comment on Pinterest! I'd love to see how you styled it!
More Valentine's Day Decor Inspiration
If you need some more ideas for Valentine's Day decorating around the home, check out these posts!
30 DIY Valentine's Day Wreaths & Modern Farmhouse Pretty
30+ Farmhouse Valentine's Day DIY Decor Projects
Easy Rustic Valentine's Day Decorating for an Elegant Look
Farmhouse Valentine's Day Decorations on a Budget
10 Easy & Cheap Ways to Decorate for Valentine's Day
8 Valentine's Day Mini Sign Free Printables
8 Super Easy Farmhouse Valentine DIY Projects from Dollar Tree
DIY Dollar Tree Rope Heart Shaped Wreath
Thoughts? I'd love to hear them! Leave a comment below!