Nothing builds the excitement to Christmas like Advent Calendars! Here are 30 unique and beautiful DIY advent calendars that you can make to help maximize the meaning and the enjoyment of the Christmas season! (Plus, 10 you can buy if DIY isn't your thing!)
Last Updated: November 7, 2021
DIY Advent Calendars – A Family Tradition in So Many Ways
I feel like I'm the new kid on the block, finally entering into the Christmas season with little ones. For years and years, it was either me and my immediate and extended family, me and my friends, me and my husband…and now, it's me, the husband and our toddler crew of 2. Over the years, I've been piling up ideas – things I couldn't wait to do when I had kids. Advent calendars are one of my favorites. We never did them in our house when I was a kid, and I always thought how much fun it would have been to have a countdown to Christmas with something we did daily to celebrate.
The Real Advent
When my boys were still young – just 2 1/2 years old – so we started with a simplified version of an Advent calendar reading the Christmas story. They are 6 years old now and it's something they anticipate and they've grown into as they've get older. It's so important to find ways to make sure the Christmas season isn't overshadowed by all the shopping and craziness. For me, it's all about focusing on the birth and coming of Christ ("The Advent"), time with family, and serving others. Advents calendars make this happen in a fun way that builds excitement each day.
We started with this one, the Story of Christmas: Story Book Set and Advent Calendar. It's a tri-fold calendar that has a Bible reading for every day – little books that can be hung on a mini tree.
Even though we also do advent activities including acts of kindness and Christmas activities, we still read through this every year as an advent tradition.
Below, I've listed 30 DIY Advent Calendars that you can create and use with your family. You'll see lots of ideas with fabric pouches, galvanized buckets, ladders and clothes pins. There are many variations and designs, and if you gravitate toward a certain look, I know you'll find something you love.
Also, I've listed another 10 Advent Calendars that you can purchase instead of make. The holidays can get a little crazy and we can run out of time pretty quickly – so if you would rather buy than DIY, there are 10 options there as well!
If you want to get crazy easy, here's a post with 30 different FREE PRINTABLE advent calendars and activities! Head there to take a look if you're a fan of free printables! I've also created my own 22-page advent calendar bundle with calendars, number and picture cards, plus 72 activity cards including family activities, Bible readings, and Acts of Kindness.
30 DIY Christmas Advent Calendars (+ 10 You Can Buy)
This post contains affiliate links. Please see Disclosures for more details.
10 More Advent Calendars for Purchase
If you're not into DIY or don't have the time, here are 10 Advent Calendars for your convenience that you can purchase by clicking the links.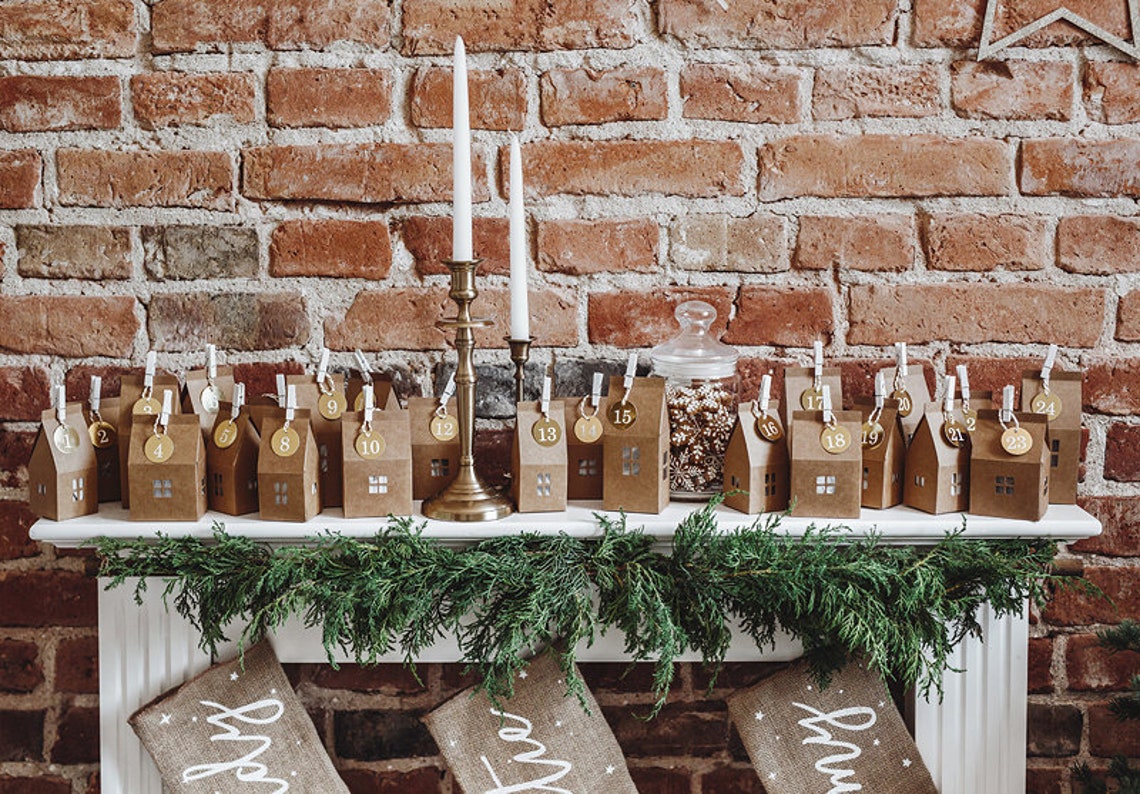 There's no doubt that these Advent Calendars will certainly get you and your family in the Christmas spirit! Not only that, they will get you focused in the right direction- on Jesus, on family, and on serving others!
Another Option Besides an Advent Calendar
If you're feeling overwhelmed by all of this, I totally understand. I beg you not to commit to anything that will add to your stress; that is NOT what this season is about.
If you still want to do some activities and make memories with your family but cringe at the every-day-ness' of an advent calendar, check out this Christmas Bucket List. Here are 30 activities where YOU choose – when, how many, how often. No commitment necessary. This one also has a free printable! If you instantly feel like you can exhale now, then do the bucket list. No shame in that, mama.
More Christmas Decor Options
Another thing I love about advent calendars is that they can double as very functional, multi-purpose Christmas decor! If you're looking for some more Christmas decor inspiration, here are 30 farmhouse rustic Christmas decorating ideas for mantels | tables |entryways as well as kitchen and dining areas!
If DIY is more your speed, you can try these farmhouse Christmas DIY projects that you can show off right alongside your advent calendar! Here are some of my favorite Scandinavian DIY and decor ideas!
Displaying Christmas cards can also double as Christmas decor, and here 21 ideas for how to make a stylish display of your Christmas cards!
Christmas Gift Ideas
If some Christmas shopping is on your to-do list, be sure to check some of these ideas!
Holiday Shopping Guide for Mobile Babies – 9 -22+ Months
Holiday Shopping Guide for Toddler Boys, Ages 2-4
15+ Creative Gift Ideas Guaranteed to Wow – for Your Whole List
35 Unique ( & Inexpensive!) DIY Christmas Gift Basket Ideas
15 Classy But Cheap Neighbor Christmas Gifts +Free Printable Tags
75+ DIY Gifts for Friends (So Good You Want to Keep)
50 Pretty Awesome Homemade Gifts Kids Can Make (for Every Occasion)